Travel by private jet has long been reserved for celebrities, sports figures, and the moneyed elite. But the desire for more breathing room, quicker travel, and safety in the time of a global pandemic has led savvy entrepreneurs to begin opening private jet travel to a wider market. And the LGBTQ+ community is helping lead the way.
Two companies, in particular, are seizing the opportunity.
Last year, Wheels Up became the first IGLTA (the international association of  the LGBTQ+ travel industry) global partner from the private aviation sector. With over 1,500 private aircraft at its disposal, the Wheels Up promises to help expand global LGBTQ+ representation in the travel sector.
With an out CEO, Advanced Aviation Team is likewise opening travel by private aircraft to a wider market by acting as a broker of available private jets, rather than owning and operating its own fleet.
"As a broker, we don't own or operate any aircraft," Advanced Aviation Team founder and CEO, Gregg Brunson-Pitts, tells Out Traveler. "We go to the marketplace of available aircraft and negotiate the terms of a charter contract with owners and operators. A good broker, like Advanced Aviation Team, will then oversee trips for clients from beginning to end. Owners and operators just have a small pool of aircraft to choose from. I have any number of aircraft for any number of passengers at my disposal."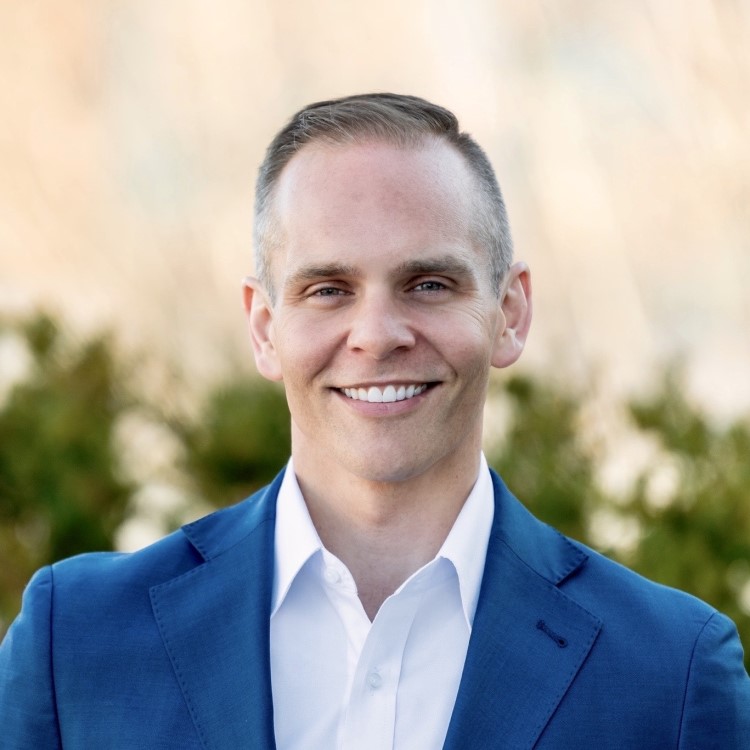 Gregg Brunson-Pitts, Founder and CEO of Advance Travel Team
Brunson-Pitts is a former White House Travel Director and spent last year flying every candidate from the 2020 presidential campaign. Not every decision the company makes is based on the bottom line, and they have a track record of activism and giving back to prove it. For example, Brunson-Pitts and Advanced Aviation Team were recently on the frontlines in the battle against the pandemic, providing a plane to José Andrés of the World Central Kitchen to fly in much-needed PPE to the Navajo Nation in the American southwestern states.
Brunson-Pitts says being a member of the LGBTQ+ community has its privileges, giving him "a built-in network of aviation professionals and other people" in the industry who understand the unique needs of LGBTQ+ travelers and are willing to go the extra mile for family. He is also quick to thank his partner and husband, Brooks, who he says "has undeniably been the best influence on my career," adding he could not have done it without him.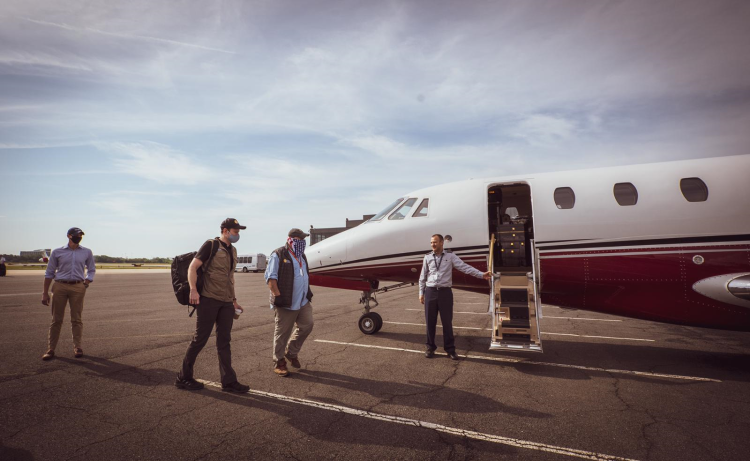 Brunson-Pitts and José Andrés of the World Central Kitchen deliver PPE to Navajo Nation.
Rather than strictly serving as a broker of private jets, Wheels Up operates its own fleet of 300 private aircraft while also partnering with Delta Airlines to provide access to an additional fleet of 1,250 safety-vetted and verified private aircraft.
Stephanie Chung, chief growth officer at Wheels Up, tells Out Traveler the company offers three levels of membership to companies and private individuals with varying levels of services and reservation options. All members of the LGBTQ+ community who sign up with Wheels Up will receive unparalleled personalized service and near-instant access to a fleet of private jets ranging from the King Air 350i to large-cabin Boeing and Airbus jets.
"As a Global Partner, we are committed to this audience to deliver the world-class safety, service, and flexibility that Wheels Up is known for," Chung tells Out Traveler.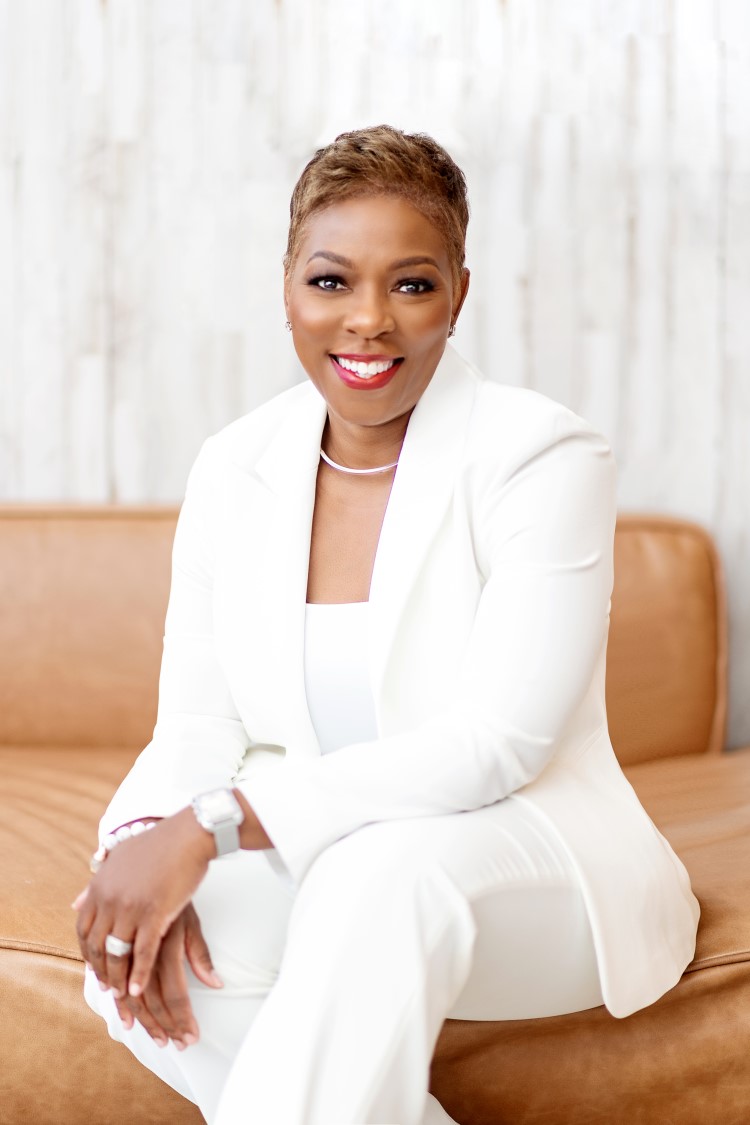 Wheels Up Chief Growth Officer Stephanie Chung
Chung says Wheels Up is adding a few extra perks aimed at the LGBTQ+ community on top of its already exemplary service.
"All IGLTA members who join Wheels Up will have access to membership features including our Wheels Up Down program, Shared Flights, empty-leg Hot Flights, Shuttles, and The Community, an online platform of members-only forums to facilitate flight-sharing – enabling members to further reduce their cost of flying private," Chung explains. "In support of this partnership, we will introduce seasonal event opportunities geared to IGLTA members."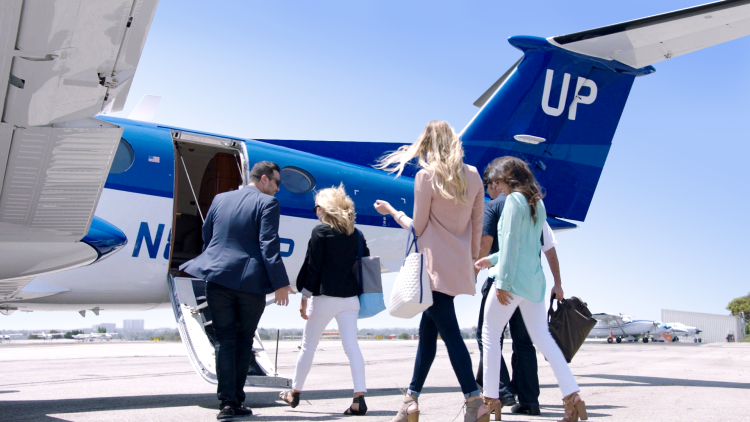 Passengers board a Wheels Up private jet.
Wheels Up and Advance Aviation Team see travel via private jet to be a safer alternative to travel on large commercial airlines. Rather than flying with hundreds of unknown travelers from around the world all crammed into the closed environment of a large-cabin passenger jet, smaller aircraft means fewer if any fellow travelers. Smaller aircraft also means it's easier to quickly clean and sanitize a plane compared to larger commercial aircraft seeking to turn a plane around for departure as quickly as possible.
When asked if private charters like Wheels Up are the future of travel, Chung sounds positives when saying the company was founded in part to "democratize private aviation" and adding "more people are turning to private aviation."
While Brunson-Pitts doesn't foresee private jet travel becoming affordable to the average traveler, he does see "a hole in the market that can be filled with creative ways to democratize the industry," listing off several scenarios for at least making private jet travel more accessible.
"There are empty aircraft flying around all the time because they have to get in position for trips and paying customers," Brunson-Pitts continues. "You could advertise those legs and for people who want to make themselves available for those trips. This requires some flexibility in scheduling that most travelers don't have."
Another point upon which both Brunson-Pitts and Chung can agree is the validity of the old adage that once a person has traveled via private jet, they'll never want to fly commercial again.
"You heard right," says Chung.
"The short answer is yes, especially if the traveler can afford it," echoes Brunson-Pitts.